Comparison of the size of Israel vs. Jordan
---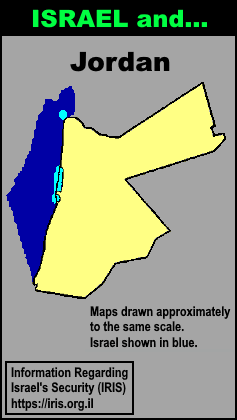 Note: Jordan and Israel agreed in October 1994 on a peace treaty defining the boundary between them. The map above is based on earlier information and does not necessarily reflect the minor border modifications that were made.
Back to index of size maps

Stay updated on the news from Israel.
Join our Free mailing list!
---
Home | Israel Blog | Old Blog | Disengagement | Terror Charts | Security Maps | Israel Size Maps | PLO Background
PLO Quote Sheets | Did Israel Offer Too Much? | Subscribe | About IRIS | Contact Us | Web links | Temple Model
include "links.inc"; ?>
Copyright © 1998-2016 Information Regarding Israel's Security