The Graph of Wrath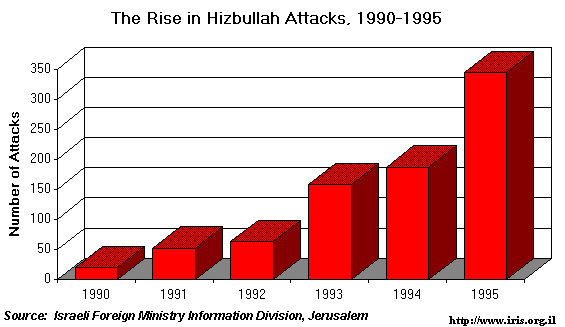 ---
Why did Israel launch its April 1996 "Operation Grapes of Wrath" against the Hizbullah force in southern Lebanon? The graph above shows part of the picture. Attacks by Hizbullah against Israeli targets have risen dramatically over the past few years, putting increasing pressure on Israel's northern towns and on the soldiers defending the northern border.
Hizbullah activity had already increased substantially by 1993, when Israel struck back with "Operation Accountability." The unwritten understandings reached to end that operation, however, proved insufficient. Hizbullah continued to step up its attacks, backed by Iran and Syria.
In 1995 Hizbullah attacks nearly doubled again, and by April 1996 the situation had become unbearable, prompting Israel's latest operation to defend its northern border.
---
Charts of Israeli fatalities in terrorist attacks:

Stay updated on the news from Israel.
Join our Free mailing list!
---
Home | Israel Blog | Old Blog | Disengagement | Terror Charts | Security Maps | Israel Size Maps | PLO Background
PLO Quote Sheets | Did Israel Offer Too Much? | Subscribe | About IRIS | Contact Us | Web links | Temple Model
include "links.inc"; ?>
Copyright © 1998-2016 Information Regarding Israel's Security